well you guitar may need to be sent back
We have been informed of a possible calibration issue with Guitar Hero II for the Xbox 360's whammy bar. We believe this may stem from a feature put in place to ensure accurate scoring. Guitar Hero II features a complex control scheme that requires precise calibration between the game and the guitar. We are currently investigating the situation further; however, if you are experiencing these issues, we recommend that you try the following steps:1. Turn off the power to your game console
2. Make sure the whammy bar is moved away from the body of the guitar and not depressed
3. Make sure the guitar is securely connected to your console
4. Then turn the console's power back on
5. Load the Guitar Hero II game and begin playingIf the above steps do not resolve your problem, please feel free to contact our customer service department using the following information:Phone: (310) 255-2050You can call our 24-hour voice-mail system for answers to our most frequently asked questions at the above number. Contact a Customer Support representative at the same number between the hours of 9:00 a.m. and 5:00 p.m.Internet: http://www.activision.com/supportOur support section of the web has the most up-to-date information available. We update the support pages daily so please check here first for solutions. If you cannot find an answer to your issue, you can submit a question/incident to us using the online support form.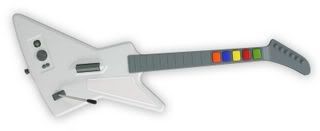 [Via GTR]
- Donald "dpcough" -